Class Space is Limited


Spring 2024 TBD
Virtual Experience 10am - 3:30pm CST
Installing Oracle
Installing SQL Server
Importing/Creating a Baytek Database
Database Imports and Exports
Installing/Upgrading Baytek Software
Basic Troubleshooting Procedures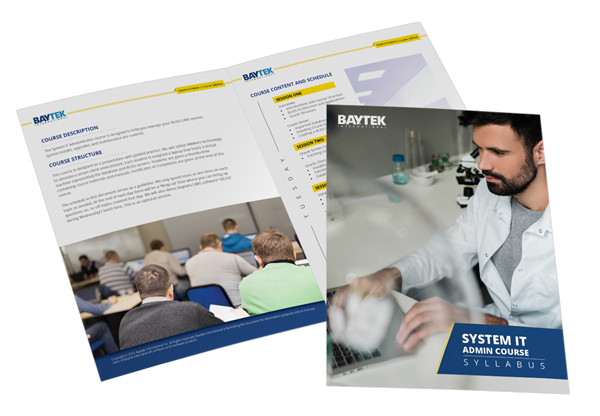 The Baytek System IT Administrator Course is a 3-day course providing administrator training on topics including:
Installing Oracle

Installing SQL Server

Importing/Creating a Baytek Database

Database Imports and Exports

Installing/Upgrading Baytek Software

Basic Troubleshooting Procedures
This course is designed as a presentation with guided practice. We will utilize cloud technology to provide students with hands-on exercises. Students will be emailed course materials and manuals. Certificates of Completion are given at the end of the course.
The System IT Administrator Course is conducted using BLISS Revision 19 and the latest version of Microsoft and Oracle technology.
Baytek International will provide all necessary course materials.
---
To register, click here.
Cost is $2,750 per person.
For more information, email This email address is being protected from spambots. You need JavaScript enabled to view it..