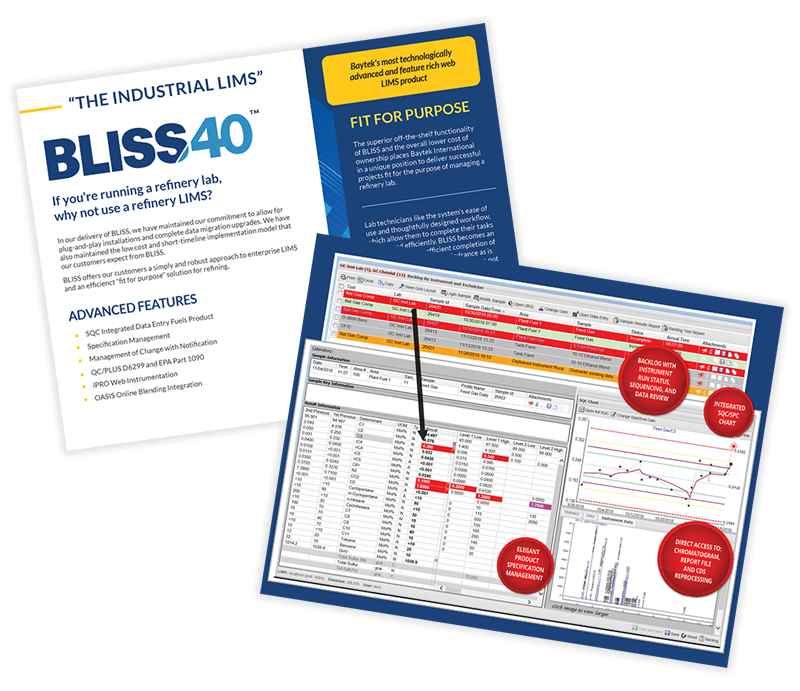 BLISS is Baytek International's most technologically advanced and feature rich lab management software. 40 years of customer feedback, company investment, and technological innovation have made BLISS The Industrial LIMS.
In our delivery of BLISS, we have maintained our commitment to allow for plug-and-play installations and complete data migration upgrades. We have also maintained the low cost and short timeline implementation model that our customers expect from BLISS.
BLISS offers our customers a "simply web" approach to enterprise LIMS and an efficiency improving "fit for purpose" solution for manufacturing lab automation.
Advanced Features Offered in BLISS Include
SQC Integrated Data Entry
Automatic Data Archiving and Replication
Retention Management
Management of Change with Notification
Product Specification Management
iPRO Web Instrumentation
Cloud Capable LIMS
BLISS is for cloud based LIMS software. Baytek continues to offer the standard web implementation within a customer's local and enterprise network, however we also offer an industry leading cloud hosting solution. Read More about Cloud Hosting
BLISS continues to be a leading LIMS for the manufacturing lab. Our workflow, feature set, suite of functionality enhancing add-ons, award winning support, experienced professional services team, and low total cost of ownership sets us apart from all other LIMS. BLISS sets the standard of excellence for manufacturing lab LIMS solutions. The enterprise integration, system management capabilities, instrument interface, and SQC statistical quality capabilities are the best in the manufacturing lab industry.
---
Watch the demo of BLISS.
This is password protected material. If you do not have a password, please contact This email address is being protected from spambots. You need JavaScript enabled to view it..