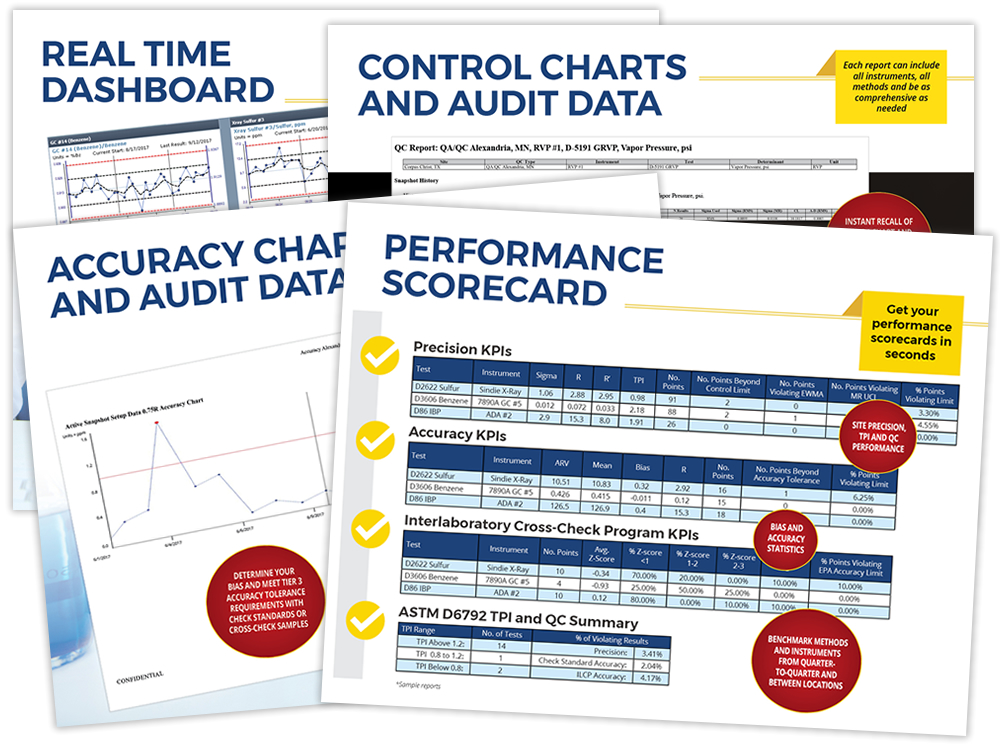 Baytek participates in ASTM D02.94 and works closely with leading industry experts to provide the definitive solution for ASTM D6299, ISO 4259 & Tier 3.
Technician Workflow
Email/text notification & charts with statistical precision and accuracy alerts integrated into the Technician's daily workflow. No need for the Tech to go looking for status; precision and accuracy; status are built into daily workflow.
Customizable dashboards for chart display by group, role, or responsibility within the lab.
Chemist
Easy notification & review when a Technician enters a violating result.
Charting & data management built specifically around the D6299 practices and Tier 3 Precision and Accuracy requirements.
Integrated audit-trail and compliance reporting tools.
Quality Manager
Customized dashboards for quick review of charts & status at the site or enterprise levels.
Notification of unresolved precision or accuracy events.
Monthly, quarterly or annual reporting by instrument, method, material, site, or enterprise levels.
Fit for Purpose
QC/PLUS is uniquely designed to be fit for your purpose. It isn't a charting app that can be used for D6299 and it isn't a LIMS that might be customized with a few Tier 3 tools. QC/PLUS is a comprehensive solution, tailored from the ground up for D6299, ISO 4259 and Tier 3 workflows at the Technician, Chemist, and Quality Manager levels, unlike competing solutions which only focus on the QC Chemist.
QC/PLUS™ is:
Auditable: QC/PLUS is a full, auditable database with complete revision and user control.
Powerful: Built on the latest web technology, QC/PLUS provides the best performance and speed.
Simple: Intuitive Interface means instant ROI for every user!
Supportable: QC/PLUS is not a custom app or spreadsheet macro; it is a supportable product built by Baytek.
Immediate: Instant email/text notification for immediate review and corrective action.
Valuable: Identify suspicious data as each QC sample is approved to maintain compliance, quality, productivity, and safety.
Available: QC/PLUS supports both internal server or cloud platforms on native web browsers, which means no rushing back to the office to view critical data! You can check progress from any workstation on the internal, secure network.
Learn More about Cloud Hosting and Immediate Implementations
---
Watch the demo of QC/PLUS.
This is password protected material. If you do not have a password, please contact This email address is being protected from spambots. You need JavaScript enabled to view it..