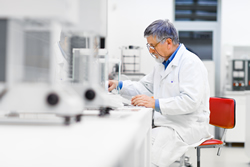 User Training
Baytek International offers two (2) methods for technical training:
Customized: Our Professional Services staff can develop and present customized training modules to meet your needs.
Trainer Training: Using training modules developed to meet your specific needs, our Professional Services staff can train your team members to be internal trainers.
In today's high-tech world, shortages of trained technical personnel are the rule more than the exception. In this environment, Baytek University is well-equipped to meet your training needs.
To support your commitment to Baytek International's tools, we offer software instruction that covers our tools and the environments in which they operate.
Baytek Training Solutions
Effectively | Trained Personnel | Increased Productivity
As technological solutions expand, the need for technical training also increases.
The link between training and productivity is well documented and the Baytek Training Team is the answer to creating this link in your organization.
On-Site Training
Baytek International can provide customized On-Site Training to meet all of your LIMS training needs.
Our staff can develop and present customized modules to meet the training needs of all BLISS users and administrators. Group sized are flexible and will be based on your needs.