The same powerful QC workflow you expect from Baytek, in a lighter package.
QC/EZ is a SAAS statistical Quality Control charting solution, offering immediate deployment, simply elegant user interface, scalable features, and integrated D6299 workflow.

No software to buy or install, no servers to manage, no long-term contracts, no hidden fees. Get started immediately!

Managing the capability of analytical instrumentation has never been this EZ. Just login to QC/EZ web-application and manage your control charts.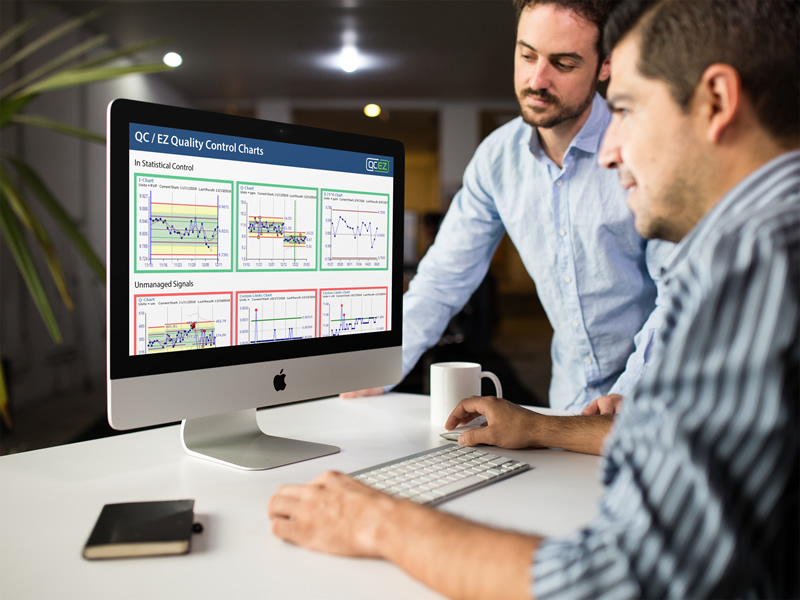 Elegant D6299 Workflow and More
Standard Capabilities
Features
Visual Status Indicators
System Capability Monitoring
Sample Backlog
OOC Alerts
Audit Records
Exception Reports and Pareto Analysis
Analyst Performance Review
User Permissions Control
Benefits
Easiest SQC Solution Available
Reduce Variability
Improve Quality
Prevent vs React to Process Changes
No Capital Expenditures
Increase Profits
Comprehensive Charting
I-Charts
MR-Charts
Q-Charts
EWMA or Run Rule Strategy
Q-Q Plot | Histogram
Custom Defined Limits Percentile Charts
EPA 0.75R Charts
Z-Score Charts
Pretreated Control Charts
Which Plan is Right for You?
| | | | | |
| --- | --- | --- | --- | --- |
| | | | | |
| | | | | |
| | | | | |
| EPA Part 1090 Compliance Features | | | | |
| Full Suite of Flexible Charting Options | | | | |
| Pop-up Warnings when Entering Out-of-Control Results | | | | |
| Data Collection, Normality Checks & D7915 Outlier Detection | | | | |
| Immediately Create Chart from Existing Statistics | | | | |
| Performance, Audit & Attestation Reports | | | | |
| Real Time Chart Kiosk w/ Red & Green Status Borders | | | | |
| Tracking of QC Material Lot # | | | | |
| | | | | |
| Additional Number of Users and Charts | | | | |
| Performance Evaluation of Each Analyst | | | | |
| TPI, Sigma Max & Bias Max Monitoring & Reports | | | | |
| 0.75*R & Pretreated Charts for ILCP/PTP | | | | |
| Email Notifications for Out-of-Control Results | | | | |
| XLS Export of Chart Results | | | | |
Individuals Charts
Q-Charts
EWMA Overlay
MR-Charts
D6299 Strategy 1 or 2
Percentile Charts
Custom User Defined UCL/LCL Charts
EPA 0.75*R Charts with Check Standards
Pretreated I&MR Charts
Z-Score Charts for PTP/ILCP
Tracking of QC Material Lot #
Exceptions Reports
Elegant D6299 Workflow for Chart Management & Updates
Real Time Chart Kiosk w/ Red & Green Status Borders
Fully Auditable History of All Results, Actions, Limits
Role Based Permissions Super User, QC Lead & Basic User
No Install, Web-based & Accessible from Anywhere
Pareto Analysis of Common Cause Variation